Fixing brochure pages with a metal staple is a low-cost method. This is commonly used for small numbers of pages (up to 96 pages, depending on paper thickness).
Two types of staples are available:
Regular staples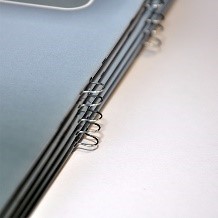 Loop staples
Advantages:
Low-cost.
The brochure can be opened to 180 degrees, or even 360 degrees if necessary.
Techniques to transfer images from one page to another can be applied.
To ensure durability it can be stapled with four or five staples (for example, for schoolbooks).